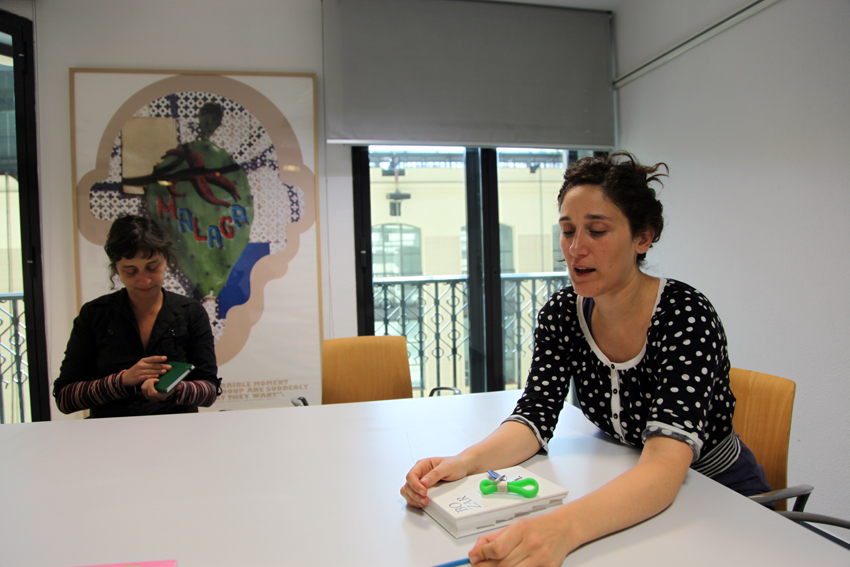 Framework of the interview:
actors / agencies:
-       Maral Kekejian, programmer
-       La Casa Encendida, as a performing arts venue and the producer of In-Presentable
-       El Club, group
concepts / themes > lenses to the actors/agencies:
-       critical practices in ways of work and production: collaboration, collectivity, mutual support, collaborative initiatives – El Club / vs. predominant individualism
-       critical practices related to the reflection: El Club – sharing the knowledge, reflection of the process of collective work
-       critical cultural policies: opening the scene – bringing authors from abroad and including local actors: In-presentable; creating space for continual public talks and dialogues – In-presentable; meeting point of performing and visual arts – La Casa; providing space for work: La Casa / vs. no free places for work; collaboration between institutions and independent scene – Maral, La Casa
-       critical concepts: interdisciplinary, dis-disciplinarity – La Casa; global view, internationalism – La Casa; collaboration – El Club
Here is the transcription of the video interview we made with Maral Kekejian, which is edited by Catarina Saraiva and Ana Vujanovic, and authorized by Maral:
My name is Maral Kekejian. I'm the coordinator for the performing arts department at La Casa Encendida (LCE). It is important to say that LCE is divided into four main Areas: Solidarity, Environment, Education, and Culture. Inside the Culture Area, there are four departments: Plastic Arts, Audiovisual Arts, Literature and Thinking, and Performing Arts. There are a lot of projects that we do cutting across among the different areas; that's why it's so important to exchange information among them. For example, the Performing Arts department together with the Solidarity Area, develops a project focused on disability and performing arts. It's a small festival, the first one to have this focus in Spain, and this year it's already the 8th edition. I'm responsible for the program, creating the relation between these two areas of LCE.
My department coordinates performance, dance, theatre, music, and children programs. In this area we have some fundamental basis or pillars such as In-Presentable festival, a project of LCE, curated by Juan Dominguez. Besides this project, we also have Escena Contemporanea Festival and Festival de Otoño, two festivals supported by the Regional Government of Madrid.
The strategy of LCE's philosophy is to show things that you can't find in other places. Although being a very simple way of defining our line of programming, is the most important one to underline. Madrid has a special situation. On the one hand, it's hard for the people to recognize contemporary performing arts and music, and on the other, there's no institutional place that creates a space to show these kinds of works.
Another main focus of LCE is to give the opportunity to art professionals either from the city or other regions to create theoretical and practical contexts within this place. I decide what to program and I'm focused on following people's course trajectory, rather than just presenting performances. I think I'm quite open to what it can be shown, considering we are talking about contemporary art. Relating LCE to other alternative theatres in Madrid – like Teatro Pradillo, Sala Cuarta Pared, El Canto de la Cabra, la Nave del Cambaleo, etc. – LCE is the only existing institutional venue at the moment financially solvent and profitable, which has the opportunity to present different contemporary works in a cool place (as opposed to the institutional ones). The context of LCE allows creating a different approach between contemporary performing arts and a wider audience, which is also important for alternative venues and for big theatres. I believe we are in the middle of that pyramid in the structure of the city.
For seven years we have had a big artistic residence project called Artists in Residence, together with the University of Alcalá de Henares / Aula de Danza Estrella Casero. I think it was one of the first residency projects in Spain. We worked with many artists from Madrid, other Spanish regions, and abroad. The project was simple: to give artists some financial support and a place to work, and eventually, to have the chance to present their project at LCE, if the project could be presented. However, the idea of this project was not to produce pieces, but to offer time to study, to develop, and to research. After this period, the artists were given the opportunity to have dialogue with me or with the University, to consider the possibility to continue working with us. I believe that this next step wouldn't make any difference in the process because people still would see it as a continuation of the research, without the responsibilities and the pressure of producing work. Normally, in Spain, when financial support is given to artists, they have to define very well what the money is for and usually, it has to lead to a production.
In-Presentable is a very important festival for LCE as it represents two weeks in the year with much visibility in the performing arts field at LCE. We could say that this period is just the top of the iceberg; it's only a little part of the work. To get there, we work all year long with local and non-local artists. Furthermore, this context is very important because it is the place and the moment to meet people who work in performing arts, although I recognize that is just one part of the performing arts scene in Madrid. Juan Dominguez works at very different levels. On the one hand, he brings very important international projects to Madrid, which allow us to understand what is happening abroad, not only concerning final projects (performances), but also theoretical and practical subjects within the field that we don't use to do here. On the other hand, he works with local people, coaching them to grow in their language, creating, at the same time, the context for them to defend their work. Juan Dominguez is a good example of the kind of profile of people that we want to be working at LCE. He's always thinking of growth. Festival In-Presentable is something that is always growing, or not necessarily growing but changing around the concept of what can or cannot be shown. He is very concerned in finding other ways of developing this concept, and his position is perfect for LCE.
El Club started three years ago due to an invitation from Juan Dominguez to some people. He proposed us to start working together, to be together, to do research together, to create together. He had no plan, just the desire of putting these people together. In the beginning it was very difficult because we didn't know why we should be together. None of us knew the others well enough. We work in the same city but the 10 of us are really different in our own realities. The only thing that was clear to us was that we wanted to follow this idea of being together and doing something for someone. We are always questioning the interest of working together. With El Paso game / project, we discovered a working methodology, which would allow us to work together, although separated. And this was important because we were not so available: one lives in Barcelona, another one in Vienna, I'm here all the time, Fernando, a theoretician, between Madrid and Amsterdam… It's kind of a complex reality. So we found this game, and we played it together. We really enjoyed it and also it gave us the chance to grow as a group. However, I think we don't have the ability and power to grow as a group according to the expectations of the scene. For example, you want me to speak about El Club. El Club is important to me, but I don't believe it is so important for the city's reality. I need to separate my work here at LCE from the work I do within El Club. Here, I'm a social worker, I have a social or political job, I must be open to an audience or a public and think about them. In El Club I'm thinking with 10 people, I'm thinking about our productivity, about the way we should grow. When in a city or country where barely nothing happens, suddenly something small appears and it is interesting, everybody would like to take it further, to put it in a special place, but I think El Club should be like a football team. You are part of it because you like to produce, to experience, and to share things with others, but you don't really need visibility. And this is the main issue for El Club, this discussions about visibility: do we want to expose ourselves or not?